Body of Luke Rutter killed fighting IS repatriated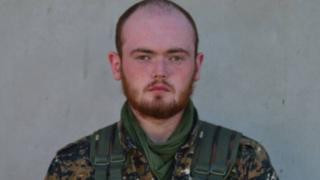 The body of a British man killed fighting the so-called Islamic State in Syria has been repatriated.
Luke Rutter was killed on 6 July in a neighbourhood south of Raqqa, Kurdish militant group the YPG said.
The body of the 22-year-old from Birkenhead arrived at Manchester Airport at 13:00 BST on Thursday.
More than 100 people from the Kurdish community attended, waving flags and carrying roses, to pay their respects to a man they see as a hero.
Kurdish YPG fighters said he had been killed "during the big campaign to liberate Raqqa from the terrorism of IS".
Chris Scurfield, father of Konstandinos Scurfield, who died fighting with the Kurdish forces in 2015, was one of those waiting outside the airport.
"My son came through here two years ago and I wasn't able to be here for that so the least I can do is be here for Luke," he said.
"It hopefully gives the family some support and shows just how how appreciated Luke is in both the Kurdish community and the British community too."