Vicar at 'Beatles church' continued working after abuse conviction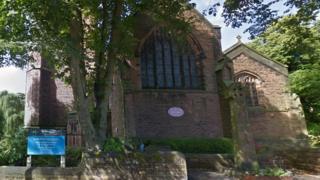 A man abused as a schoolboy by a vicar at the church where John Lennon and Paul McCartney met is taking legal action against the Church of England.
Then aged 15, the man was sexually assaulted by the Rev John Roberts, formerly of St Peter's in Woolton, Liverpool, who was convicted in 1989.
Roberts remained in the Church until 2013, becoming a canon and working at Liverpool Cathedral.
The Diocese of Liverpool said it "deeply regrets" the hurt caused.
The victim is taking legal action after being granted core participant status in the Independent Inquiry into Child Sexual Abuse (IICSA), which is investigating the extent to which institutions failed victims, his lawyers Slater and Gordon said.
'Psychological scars'
Now aged in his 40s, he was abused after joining the church choir as a boy.
Roberts, who was convicted of two counts of sexual assault against him, remained with the Church for another 24 years until his retirement.
During the latter part of his career, he helped out at Liverpool Cathedral by doing chaplaincy work, the diocese confirmed.
The victim said he was "disgusted" Roberts was never defrocked.
"While his life improved after his crimes I lost everything," he said.
"I found it difficult for years to get a job and hold it down because of the psychological scars he inflicted on me.
"This man was a paedophile yet the church just let him carry on."
'Cannot officiate'
In a statement, the Diocese of Liverpool said it "acknowledges and deeply regrets the hurt that John Roberts caused his victim and we take this matter very seriously indeed".
It added Roberts "has not got permission from the Bishop of Liverpool to officiate at any church service" and cannot conduct the duties of a priest.
McCartney and Lennon met at St Peter's Church in 1957 and Eleanor Rigby - whose name was the inspiration for the eponymous song - is buried in the church's graveyard.