Wirral Council 'needs £25m' to avert child care crisis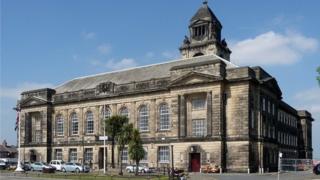 More children are in care than ever before in Wirral following a massive increase in demand, the council said.
The local authority has written to Prime Minister Theresa May urging her to "realise the affects of austerity" and provide more resources.
There are currently more than 810 youngsters being looked after by Wirral Council - up from about 650 two years ago.
The council says it needs an extra £25m this year if it is to cope with demand.
The number of Wirral children in care works out at 120 per 10,000 youngsters - almost double the UK average reported in March 2017, according to the latest official figures.
Councillor Bernie Mooney, cabinet member for children's services, told the BBC that Wirral historically had higher rates of children in care than the rest of the UK due to "areas of deprivation" within the borough.
She said the problem had now been exacerbated by austerity and the council was at "crisis point".
'Money has to be found'
"Most of it is down to seven years of austerity. Taking money out of things like early intervention. Children's centres are closing at a rate of six per week," the councillor said.
She added: "The demands on our services will cost the council an extra £25m this year. That money will have to come from other services.
"Vulnerable children have got to be looked after so this money has got to be found.
"I think it's about time Theresa May and the chancellor realised the affect that austerity is having."
Wirral Council's Children's Services has endured a difficult year after it was rated "inadequate" in a damning Ofsted report in Sepember 2016.
This was followed by revelations of how the authority failed to halt a campaign of child sexual exploitation carried out by two brothers - Ilavarasan and Vinothan Rajenthiram - in Birkenhead.
The brothers were jailed in May after being convicted of 27 sexual offences against girls as young as 14.
The council said staff were working hard to improve the services, but the increased demand and lack of funding was making this extremely difficult.