HMP Liverpool: Mum's anger at jail after son killed himself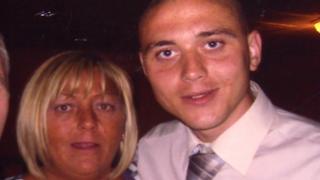 The mother of a prisoner who killed himself at HMP Liverpool has said her son was "treated like an animal".
Tony Paine, 35, died in hospital after being found in his cell on Monday.
He is the third inmate to have died by suicide at the jail since inspectors made an unannounced visit in September, finding "squalid" living conditions and major management failures.
Lancashire Care NHS Foundation Trust said an independent investigation into the death will take place.
Janet Paine said her son had severe mental health problems and the justice system had failed him.
She said workload pressures meant he was not regularly seen by the prison's mental health team, and did not get the specialist care he needed.
Paine was sentenced to 18 months in January for affray and endangering the public after climbing on to a roof.
Mrs Paine said his behaviour had been caused by his illness and she had written to the judge to ask him not to send her son to jail because "he wouldn't be able to handle it".
She also said her son wrote to her last week "begging for help" because he was going to harm himself.
"He should have been in a hospital wing, he knew he wasn't well," she said.
"It should never have happened and it will continue to happen until something is done about that place."
'Failure of leadership'
A spokesman for Lancashire Care NHS Foundation Trust said Paine was "receiving support on the wings under the supervision of prison officers with input from Lancashire Care and a specialist prison care plan was in place".
He said the case would now be passed to the coroner and all deaths in custody were investigated by the Prisons and Probation Ombudsman.
Prison inspectors made the unannounced visit the jail in September, having been made aware of concerns.
Their report said some prisoners live in cells that should be condemned, with exposed electrical wiring and filthy, leaking lavatories.
The damning report said the chief cause of the problems was a failure of leadership at local, regional and national level.