Slavery museum acquires 'remarkable' abolition painting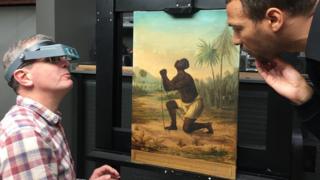 A painting depicting the "powerful and resonant iconography of abolition" is to go on display after being acquired by the International Slavery Museum.
The 1800 work, Am Not I A Man and A Brother, shows a kneeling slave in chains, an image which would was used as a logo by abolitionists.
The Liverpool museum said it was a "remarkable surviving product" of the early abolitionist movement.
It was purchased using a £50,000 Art Fund and Heritage Lottery Fund grant.
A museum spokeswoman said the painting, set against the backdrop of a Caribbean sugar plantation, was based on a design commissioned by the Committee for the Abolition of the Slave Trade on 5 July 1787.
She added that it was a "significant acquisition" as the image was considered to be "one of the first instances of a logo designed for a political cause".
The logo was used famously by potter Josiah Wedgwood, who used it on an anti-slavery medallion.
The museum spokeswoman said it was only the second known painting to feature the motif, the other being The Kneeling Slave, which hangs in the Wilberforce House Museum in Hull.
It will go on display at the end of the year after restoration work, said the museum.
Slavery and abolition in the UK
From about 1500 to about 1865, millions of Africans were enslaved and transported across the Atlantic by Europeans and Americans as a labour force to work, especially on plantations
Ships carried millions of enslaved Africans across, with the vast majority going to the Caribbean, and returned to Europe with goods such as sugar, cotton, coffee and tobacco
The resistance of enslaved Africans and the abolitionist movement brought the British slave trade to an end in 1807
Source: The International Slavery Museum