Liverpool-Manchester fast rail journeys to double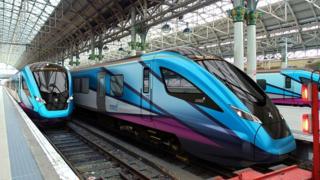 The number of express Liverpool-Manchester rail services will double, TransPennine Express (TPE) has said.
From May, the 33-minute trips will run every 30 minutes, instead of hourly, in both directions between Liverpool Lime Street and Manchester Victoria.
There will also be two "fast services" between Newcastle and Manchester per hour calling at York, Leeds and Huddersfield, a spokeswoman said.
TPE said: "This is one of the biggest timetable changes the North has seen".
The changes will come into effect from 20 May as part of the £1bn Great North Rail Project, which aims to improve links in the region by 2022.
TPE said there would also be:
new hourly evening services between Hull and Manchester
more services on Sundays from Middlesbrough and Hull
earlier and later weekday services from Scarborough and Middlesbrough
services to and from Scotland will run direct between Preston and Manchester Piccadilly and will no longer call at Wigan North Western and Manchester Oxford Road
The new timetable means TPE services will no longer operate on the route via Birchwood, Warrington Central or Liverpool South Parkway.
Last month, rival operator Northern announced it would introduce a new hourly Liverpool to Manchester Airport service via Warrington to replace the TPE service.
Northern said its Liverpool to Manchester stopping service via Newton-le-Willows will now call at Oxford Road, Manchester Piccadilly and Manchester Airport before continuing to Crewe.
Leo Goodwin, TPE managing director, said: "This is one of the biggest timetable changes the North has seen and will deliver real benefits for those travelling for work or leisure."
The operator said its new Nova trains will be introduced later this year as part of a £500m investment, which it claims will deliver more than 13 million extra seats across the North and into Scotland.