Liverpool launches Channel 4 headquarters bid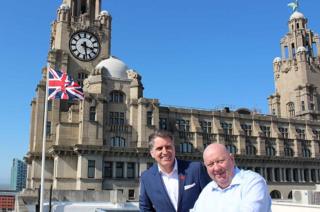 Liverpool is launching a "compelling bid" to host Channel 4's new national headquarters, the city council says.
The broadcaster is searching for a base and two other hubs outside London with plans to move hundreds of jobs there.
Liverpool City Region Metro Mayor Steve Rotheram and City Mayor Joe Anderson have joined up to lead the bid with support from Phil Redmond, creator of Channel 4 soap Brookside.
Channel 4 officially opened the bidding on 15 April.
It is part of plans to put an extra £250m into its nations and regions spend by 2023.
Liverpool could face competition from cities such as Cardiff, Glasgow, Manchester and Birmingham.
Mr Anderson said: "Liverpool and Channel 4 are soulmates in so many ways, in our attitude, spirit and creative output."
He said it has a long, successful history with Liverpool "from the day it launched and aired the first episode of Brookside".
Mr Rotheram said the city "has everything Channel 4 needs - amazing locations, quick and easy access to production hubs" and would "revolutionise the city region's creative industry".
Mr Redmond said Liverpool was the "north's most cultural city... renowned for its creativity and zest for innovation".
"From the written word, through performance, sport and production, to the national museums and leading edge science and technology, Liverpool is always a first mover," he added.
"Alongside this, the legacy of Brookside lives on with Hollyoaks, plus the best Screen School and Film Office in the UK, provide a creative firmament unmatched anywhere else."
Liverpool John Moores University is also on the bid steering group.
Liberal Democrat leader on the city council Richard Kemp said it was "absolutely right" Liverpool make the bid so it can "add to and gain from the vibrant arts and cultural scene which is the best in the country".
Green councillor Sarah Jennings, who represents St Michaels ward, said: "Liverpool desperately needs a significant media headquarters to give us critical mass and credibility. C4 is the obvious choice."
Liverpool's Conservative party is yet to comment.