Rare bat observed visiting local pub in Norfolk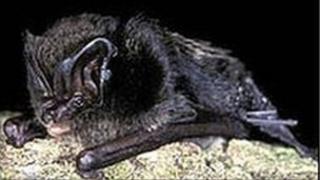 Volunteers who spent the past two weeks tracking rare barbastelle bats in Norfolk found they visited a pub, a museum and a town council.
Transmitters the size of a sunflower seed were fixed to the bats' fur to allow experts to understand more.
They allow the bats to be heard up to two miles away on receiving equipment and drop off in time.
Researchers found one bat had visited Sheringham Town council, the seafront, a golf course and a local pub.
This project, which began four years ago and is backed by the National Trust, Natural England and local volunteers, is headed by Sheringham Park warden Keith Zealand.
"So far this year we've helped track bats at two Natural England nature reserves in Norfolk," he said.
"Now we've turned our attention to the bats at Sheringham Park where the barbastelle was only discovered a few years ago.
"Of the three barbastelle bats we tagged two weeks ago, two have been successful but the tiny batteries will only last until this weekend."
He added that one had been "extremely energetic" and had found a different roost site nearly every night.
Golf course haunt
Mr Zealand said: "This species of bat prefers deep woodlands to roost and breed in, however when it comes to its evening excursions it appears to be visiting all the local amenities, including urban areas, right down to the shoreline.
"Flying anything up to 10 miles a night, we've tracked it to North Norfolk District Council's woodland at Pretty Corner.
"She has also visited the Woodland Trust, Sheringham Town Council, the high ground over at Beeston Bump, the seafront, Mo Museum and the Crown Public House.
"Her favourite haunt so far appears to be Sheringham Golf Course."