Rare moth seen in protected woodland in Norfolk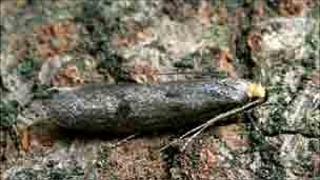 A rare moth has been spotted at a Norfolk Site of Special Scientific Interest (SSSI) for only the fourth time since records began.
The 26mm long Pseudatemelia flavifrontella, also called the ginger-haired moth, was seen in woodland at the National Trust's Felbrigg Hall.
The moth's head is covered in orange-yellow hairs and its wings are taupe, mottled with slightly darker specks.
The rare moth's home was found during a study of Felbrigg Woods near Cromer.
Dr Tom Tew, chief scientist for Natural England, said: "Moths by their nature are elusive so the findings of this comprehensive study into the diversity and distribution of moths in our woodlands provides an important scientific record.
"The findings also demonstrate how important these woodland habitats are for some of our most threatened species of moth, such as the Dark Crimson Underwing and the Triangle.
"Moths, like their daytime cousins butterflies, play an important role in England's biodiversity and the pollination of plants and flowers.
"We have been given a rare glimpse of the habits of these night time beauties and this data will enhance future habitat protection."