Recession spoils church plan by Norfolk Roman Catholics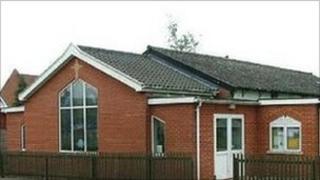 Plans by a community of Roman Catholics in Norfolk to build a new church for a growing population have been hit by the recession.
Parishioners at the Holy Trinity church in Diss sold their priest's house to buy a plot of land.
They planned to sell the 1952 church site for housing redevelopment to fund the rebuilding costs.
Because house prices have fallen in the recession, the project is too expensive so more fundraising must be done.
Father Simon Blakesley said the day they received planning consent the economy went wrong.
The community is now delaying the plan to rebuild the church.
Father Blakesley asked South Norfolk Council to extend planning permission to knock down the church so houses could be built.
But he said they can no longer raise the funds to build a new place of worship to the time scale originally envisaged, so the community will have to wait.