Digital switchover: Guide to Norfolk TV going digital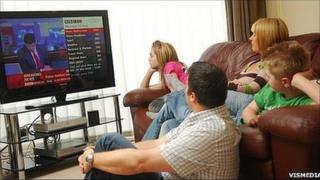 Norfolk's analogue TV signal will be switched off at various points throughout 2011.
Different parts of the county will be turned off throughout the year, with everywhere going digital by 23 November.
If you're already watching digital television through your home aerial, via cable or satellite, then there is nothing else you need to do.
If not, you may need to act fast to ensure you can continue watching TV.
In most cases you will not need to upgrade your television sets.
However, as a minimum requirement you will need to upgrade your TV's setup to include a Freeview box if you are watching television through an aerial, or use the aerial to record onto VHS or DVD.
Each TV will need to have its own digital box. If you are aged 75 or over or disabled you could could benefit from the Switchover Help Scheme.
The digital switch-off will not affect radio.
Different times
The main thing to bear in mind in Norfolk is that you might lose your analogue versions of BBC One, BBC Two, ITV1, Channel 4 and Channel 5 at different times to your neighbours, friends and family.
This is because Norfolk is covered by four main television transmitters and a number of smaller relay masts.
There are many places in Norfolk, such as the Swaffham area, which are covered by two or three transmitters, all of which switch at different times.
While there are exceptions to every rule, the good news is that once the analogue channels have been switched off, the digital signal will be boosted in all areas, meaning any digital reception problems you've been having may disappear.
If you are unsure as to what transmitter you are watching your TV from, enter your postcode on the Digital UK website.
Transmitter captions will also show up on your TV screens on both analogue and Freeview in the run up to switchover, to tell you which transmitter you are watching from.
If you are currently watching Freeview, a retune will be needed on your switchover date to avoid losing any channels.
Sandy Heath
If you live in the Swaffham, Downham Market, King's Lynn and Wisbech areas, and you watch television from the Sandy Heath transmitter in Bedfordshire, you will lose your analogue BBC Two on 30 March 2011, and the other four channels two weeks after that.
You can tell if you're tuned into Sandy Heath by watching BBC Look East at 6.30pm every weeknight on BBC One. If you get local news from the Cambridge studio in the middle of the programme, you'll know that you're tuned to it.
Sudbury and Belmont
Not many people in Norfolk will be affected by the switchover of the Sudbury transmitter in Suffolk, which begins on 6 July with BBC Two and other channels on 20 July, but bear this date in mind if you're living in the Diss area.
Lots of people in King's Lynn, Hunstanton, Downham Market, Wisbech, Swaffham and right across the north Norfolk coast to Mundesley will watch programmes from the Belmont transmitter near Louth.
They will need to make sure they're ready for the switch which begins on 3 August and finishes on 17 August. You can tell you're watching from Belmont if Look North comes on BBC One at 6.30pm each weeknight instead of BBC Look East.
Tacolneston
Finally, the rest of Norfolk and Lowestoft will switch in November, when the Tacolneston mast, near Wymondham, is converted. The first stage is on 9 November, with completion set for 23 November.
And the exceptions to every rule?
Well, if you live in some parts of Norwich, Sheringham, Cromer, Thetford, Great Yarmouth, Gorleston, Little Walsingham and Overstrand, you might not get any digital TV through your aerial until November.
This is because these places are also served by relay transmitters, which will go digital only once the analogue service is switched off on 23 November.
You can tell if you're watching a relay by looking at your roof aerial - if the rods are vertical rather than horizontal, then you're watching a smaller relay transmitter designed to cover your area.
Stay tuned to BBC Radio Norfolk for the latest digital TV news for your area. There'll be plenty of news reports and phone-ins telling you all you need to know as the dates get nearer.
Don't forget that this switch only affects television.
You can listen to BBC Radio Norfolk on 95.1FM, 95.6, 104.4 FM, 855, 873 MW, DAB and online.