Speedway grave appeal rejected by Diocese of Norwich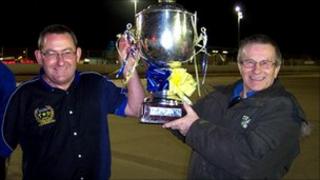 An appeal to overturn a ruling against a speedway-themed gravestone in a Norfolk village has been rejected by church leaders.
About 300 people signed a petition set up by Derek Howard's daughter who wanted a motorcycle to be carved on her late father's headstone at Hindringham.
The initial decision in January by the Diocese of Norwich to ban the image has now been formalised.
"It's upsetting," said Lorna Howard, whose father was a speedway fan.
"The rules just don't seem consistent.
"I think there could be grounds to have more choice in the picture you want and leave it down to the vicar's discretion to decide whether it's appropriate or not."
The 63-year-old was buried in his home village near Fakenham in April 2010.
New regulations which came into effect the month after his death meant the carving could not be used as it didn't reflect the person's religion, work or involvement in the armed forces.
Ms Howard's letter from the Diocese of Norwich stated: "Churchyard regulations exist to direct the attention to the life hereafter, rather than raising 'shrines' to the departed."
Mr Howard's gravestone has been left with no image.