The Kabeedies win BBC 6 Music Rebel Playlist contest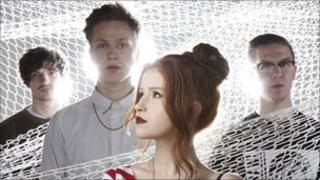 A thrilled Norwich band have won their bid to have a song played on a top national radio station.
The Kabeedies clinched the Steve Lamacq's Rebel Playlist public vote on BBC 6 Music.
Their new song Santiago will be played on each prime time show every day until Sunday.
"We're absolutely over the moon. I thought that our manager was joking when he told me - it means so much to us," said singer Katie Allard.
The four-piece, which includes bassist Rory Hill, guitarist Evan Jones and drummer Fab Bell, were pitched against Californian singer-songwriter act Sea of Bees and established Scottish rockers Glasvegas.
'Strong competition'
"I can't believe that we won over such strong competition, we have everyone who supported us and voted for us to thank for that," said Katie.
The group had a boost to their national exposure last year when one of their tracks was featured on an XBox TV advert and they hope the week-long slot on BBC 6 Music's alternative playlist will give them a stronger foothold in the music scene.
"Anyone who listens to BBC 6 Music will hear Santiago - we are so proud of the song and are really excited that it's getting so many plays," said Katie.
"We hope that people like it and it will make them interested in listening to more of our music.
"Hopefully we will gain some new fans," added the 21-year-old.
The Kabeedies follow in the footsteps of fellow Norwich group Bearsuit who came out top in the same competition last autumn.
Official launch
The group's calypso-flavoured track - which was played recently on Sky TV's Soccer AM - is available to download already, but will be officially launched at a home gig at Norwich's Waterfront venue on 20 April 2011.
The group's live act is in good shape following a successful winter tour of Austria, Germany and Switzerland.
"Every time we play Germany we're finding that we play to more and more people," said Katie.
"We've got some hardcore followers - we've had people drive over a hundred miles to see us and the fact that we're not even in our own country is really nice."
The Kabeedies will return to the Continent in the summer to play at a few festivals, but plan to concentrate this year on writing and recording their second album.
The boys of the band are currently in Leicester working on new material and hope to make some demos in the next two weeks, influenced by '50s and '60s sounds and exotic calypso, samba and Afrobeat styles.
"We want to write songs that we really, really love and put out an album we're super proud of," said Katie.