Kill It Kid's Chris Turpin in songwriting contest final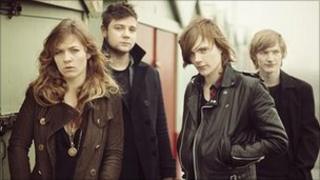 A song by a Norwich musician has made it into the finals of a global contest, which has attracted 15,000 entrants.
Chris Turpin's track, written for his band Kill It Kid, will be judged by a celebrity panel including Kings of Leon, Rihanna and Tom Waits.
The 22-year-old, who is now based in Bath, will find out in May if his song Taste The Rain has clinched the International Songwriting Competition.
"It feels fantastic to be selected but it's nerve-wracking too," said Chris.
The band's song is one of 13 to be chosen for the shortlist in the performance category, which Chris said had been selected for its "recording atmosphere and presence."
The winners of the American-based competition will receive money, instruments and software.
Taste the Rain features on the four-piece's critically acclaimed debut album and they're now back in the studio working on a follow-up, due for release in July 2011.
It's a hectic time for the group - who are signed to indie label One Little Indian - as they fly to the sprawling US music conference and festival South by Southwest the day after they finish recording their album.
They have also just completed an 18-date British tour, leaving Chris little time to return home to Norwich to visit his family.
"The tour has been fantastic as we feel that we have really connected with the audiences and have made some headway," he said.
"I manage to come back a fair amount but it's tough being on tour and away from my home in Bath such a lot."