Malawi mission for Norfolk husband and wife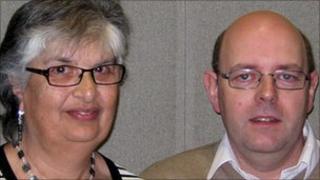 A Norfolk couple are preparing to start a new life working as missionaries in Africa.
Kathie and Les Craske from Pentney, near King's Lynn, will fly out in May.
The Craskes have been volunteering in Malawi for the last five years and were asked to help run a children's centre on their last trip.
The commited Christians said they felt compelled by God to swap their home comforts for a sparser existence in one of the world's 10 poorest countries.
The couple never expected to end up living in Africa, despite being invited to visit many times by a Malawian pastor who stayed at their home in 2000 on a sponsored bible study trip.
Frightened
"I never wanted to go to Africa, they've got snakes and spiders and I can't stand them," said Kathie.
She remained adamant until a friend who was working in Africa became ill.
"Because I'm down as her next-of-kin the insurance company flew me out at a minute's notice to be with her until she was fit to fly back," said Kathie. "I fell in love with Africa on that trip."
Since then the Craskes have visited Malawi twice a year for two weeks at a time, working with their pastor friend.
They have have been supporting projects run by the Grassroots charity including setting up a nursery for 80 pre-school children and helping pupils in a place where secondary education has to be paid for.
Enchanted
The pair, who will be based in Bvumbwe in south Malawi, have been enchanted by its inhabitants.
"When you first go to these countries, the initial thing is the poverty, but the people are so lovely and so welcoming towards us," said Les.
"The children, even though they haven't got anything - a toy is perhaps a coathanger which has been made into a car - are so happy and that's one of the things that really hits you."
As the couple prepare to rent out their home in Norfolk, they say the change will be a "great challenge," although it's happening at the right juncture in their lives.
Kathie, 65, retired from her job as a receptionist at the Norfolk and Norwich University Hospital last year, with her 49-year-old husband now preparing to give up work at Hollinger Print in Norwich.
They will arrive in Malawi - where residents have an average life expectancy of 37 years and many children are orphaned - brimming with plans for the nursery where they will continue their work.
"We want to develop the nutrition side of it more," said Kathie.
"It all sounds very good and noble, but we're feeding 80 children every day and if they're not being fed the right food and they're not developing in the right way then there's not much point.
"We also want to look into doing more ministry work with small groups. They're all Christians but their knowledge of biblical principles is very limited because they don't have bibles and some can't read."