Fishermen in Norfolk urged to consider their health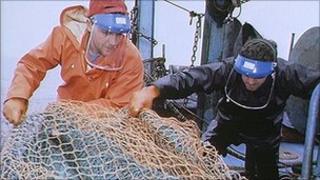 Fishermen in Norfolk are being encouraged to take advantage of free health checks.
Project FishWell addresses the dangers of the fishing industry and the issue of men not visiting the doctor.
Fisherman Peter Garnett said: "Fishermen do tend to neglect themselves. The whole lifestyle's not healthy."
As well as health checks, fishermen will be provided with safety advice at events taking place around Norfolk.
The first cardiovascular screenings took place in King's Lynn on Monday and were fully booked a few hours after opening.
Further screenings are scheduled to take place at the RNLI Henry Blogg museum in Cromer on 6 and 7 April.
As well as dealing with physical health, the project is also addressing the hazardous nature of commercial fishing.
A 2007 report for the Maritime and Coastguard Agency and the Department of Transport found that there was a total of 160 deaths from accidents in the UK fishing industry from 1996 to 2005.
Tim Jenkins, from the Fishermen's Mission which is behind the project, said: "We've got some funding to give all the fishermen a free set of buoyancy oilskins.
"They have already saved a number of fishermen's lives nationally."