Jobs to go at Archant Print's plant near Norwich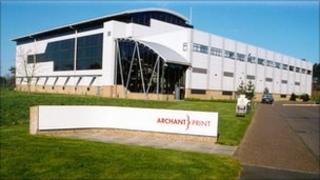 The jobs of 36 workers at a newspaper printing plant at Thorpe St Andrew, near Norwich, are set to be lost.
Archant Print is planning to outsource printing of some Archant titles, mainly from London, Cambridgeshire and Hertfordshire, to Newsfax in London.
In February Archant said up to 50 jobs could go but that figure has been cut during the consultation process.
Archant's newspaper titles include the Eastern Daily Press and East Anglian Daily Times.
The Archant Print Centre will keep a full night shift operation six nights a week to print Norfolk and Suffolk daily and weekly titles, along with a single press day shift.
Archant Print managing director Nick Schiller said: "The consultation process was very constructive and has resulted in improved, more resilient and flexible proposals with a better outcome for the company and a reduced impact on the workforce.
"The consultation team comprising senior management, team leaders, elected staff and union representatives was very effective in proposing a number of alternative strong ideas which we shall be adopting.
"Keeping a small day shift will enable us to keep maintenance and production support in-house as well as keep serving our external contract print customers. It will also give us an extra degree of flexibility."
In February Archant switched printing of its Norwich Evening News to an overnight slot, citing changing customer demands and the need to save money.
Union Unite was expected to comment later.