King's Lynn incinerator 'no' vote will not count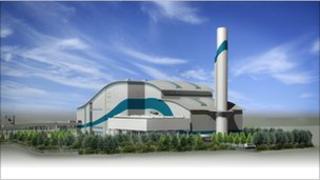 A vote against a controversial plan for a waste incinerator will not be taken into account by county councillors in Norfolk.
More than 90% of the 65,500 people who voted in the borough council referendum in February were against the plan.
Despite the result, the county council wants to sign a £500m contract with Cory Wheelabrator for the proposed rubbish incinerator in King's Lynn.
The borough council said it may lodge a formal complaint to the county council.
King's Lynn and West Norfolk borough council's resources and performance panel met on Tuesday night to review the way the referendum was carried out.
'Clear all along'
It was told by Norfolk county council's director of environment, transport and development, Mike Jackson, that the "no" vote would not be a material consideration when the proposal came before its planning committee.
Mr Jackson said: "We've made clear all along that we couldn't consider the outcome of the poll in the two formal decisions we have to make.
"We have a procurement decision to make and we have a planning decision to make in due course.
"Neither of those processes allow for the results of a local poll to determine those decisions."
The controversial plan will be considered again by the county council's cabinet scrutiny committee on 19 April.
'Perverse and perplexing'
West Norfolk councillors are considering lodging a formal complaint about the county council's handling of the proposals.
A resolution at the meeting on Tuesday said while the county council's stance "was a perverse and perplexing decision".
The borough council's chief executive, Ray Harding, said: "I think it's really really sad if the county council decides not to take account of the views expressed by that many people in West Norfolk.
"We have been absolutely astonished by the number of people who took part in the poll and how clearly they expressed their views.
"If the county feel that they are unable to take any notice of that I think that's really, really sad and really, really disappointing."
The borough council may also call for a judicial review.
The incinerator would burn about 260,000 tonnes of rubbish a year and would also produce enough power for 36,000 Norfolk homes.
It would also save the council £8m a year in the cost of sending rubbish to landfill sites, a council spokeswoman has said.