New firm created by county council to take over care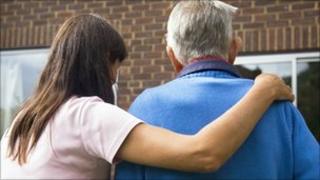 A new firm set up by Norfolk County Council is taking over the council's 26 care homes and the service within its 13 housing with care units.
The new public sector care company, Norse Care, will also be the new employer of 1,650 staff.
Norse Care Ltd comes into existence on Friday and is wholly owned by Norfolk County Council.
The council said Norse Care and its independent providers would create an extra 2,500 care places.
The council said the 1,400 people who live in care accommodation currently managed by the county council would not notice any changes.
Fees, living arrangements and the people who provide their care would remain the same, the council said.
The leader of Conservative-controlled Norfolk County Council, Derrick Murphy, said: "Norse Care offers the best of both worlds, commercial know-how but with a strong public sector ethos, and the best means of retaining the skills of our highly-regarded care staff."
Accountability worries
Norse Care is the third arms-length company to be set up the county council.
It is part of the the Norse Group which manages more than £100m worth of business all over the country for private and public sector clients.
The secretary of the Norfolk county council branch of the union, Unison, Jonathan Dunning said: "We'd prefer all jobs to remain within the county council directly accountable to the authority and the county councillors.
"But in the current climate we do see the alternative option of running the services through Norse, which is owned solely by the county council, is a reasonable compromise."
Mr Dunning said the union had secured the same pay and conditions for its members with Norse Care.
The contract to run the county council's care homes and housing with care units runs for 15 years.