Norwich City song reworked as tribute to Roy Waller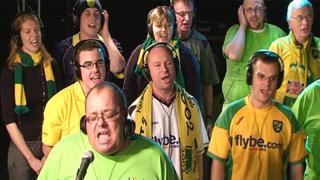 Closing my eyes for a second I could feel myself buried among the fans of the snake pit, screaming the words that many a Norwich City fan does week in, week out.
A strange feeling for a lifelong Aston Villa fan, who at a young age bellowed "It's up to you Dwight Yorke, Dwight Yorke," at the Holte End along to the popular Sinatra tune.
But this was not Carrow Road or Villa Park. I was in a community recording studio in the depths of the BBC basement in Norwich.
And I was not just involved in a reworking of a popular 1972 Canaries song that I knew very little about, but singing my heart out in tribute to one of the first work colleagues and friends I met after moving to Norfolk.
Anyone who is anyone from the county seemed to know Roy Waller - the late BBC Radio Norfolk presenter and Norwich City football commentator who died in July 2010 after being treated for a liver illness.
Four months on, local media staff from BBC Radio Norfolk and the Eastern Daily Press gathered at BBC Voices for one memorable evening, to add their strongest vocals to the re-recording of city anthem The Canaries.
New version
The new version, recorded by local band The O'Fenders, has now been released worldwide to raise money for the Foundation for Liver Research, the Community Sports Foundation and Mancroft Advice Project.
Complete with the song's original recording members, including Johnny Cleveland, alongside songwriter Chic Applin's widow Jill, it was the task of a dozen or so tone-deaf and exhausted journalists to recreate the atmosphere of Carrow Road during the chorus.
In my teenage years, I was involved with a couple of rock bands on the world stage, well, Kettering... where with all the enthusiasm in the world the juggling of the electric guitar like an erratic Matthew Bellamy or a numb-handed Eric Clapton, mixed with the vocals of an even flatter Liam Gallagher, sadly fell just short of an X-Factor appearance.
But with my colleagues by my side I was ready to recreate the ambience of the Kettering Corn Market Hall plus Villa Park, Carrow Road and Wembley Stadium all folded into one.
It took the group of overworked football fans a few attempts to get the "enthusiasm" right, according to producer Gary Standley, and indeed the very simple lyrics of the chorus, but once the nerves of the studio subsided and the "technicals" behaved themselves, the recording of about one minute of vocals was done in... a little under a couple of hours.
But we all had a bit of a laugh on that wet Wednesday evening. I had even been kitted out in the legendary Bayern Munich shirt, which apparently I was not entirely worthy of wearing. But we all knew we had done something a bit special to remember our friend.
I knew Roy for about two years before he died - not very long compared to many of his friends and colleagues or indeed his incredibly loyal listeners on BBC Radio Norfolk - but it was long enough to grow a deep affection for the man's witty banter and to understand his utter affection for his football team.
I just hope we did him proud.
The Canaries Anthem 2011 can be downloaded via iTunes with all profits going to charity.