Little Majorette singer leads Norwich vintage fair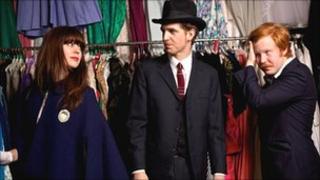 It has been three years since the elegant Little Vintage Lover Fair first graced the medieval Dragon Hall in Norwich.
Though it has grown from strength to strength, many would put it in the same box as other clique chic stalls and shops commonplace in many UK towns and cities.
But this fair has a little Stockholm sparkle behind it - and fans of the newest music blaring from headphones would likely recognise the name of its creator, but not know that the top singer-songwriter they are talking about comes from Norfolk.
Zoe Durrant is best recognised as the lead singer and brains behind Little Majorette - the rising pop-art threesome that originated in Sweden, but is beginning to makes waves in the UK and US.
Growing up in Heydon, near Aylsham, Zoe's musical dream took her across to Scandinavia in the middle of the last decade but she has always remained close to her fashion roots - something she gained working on her mother's market stall in rural Norfolk and as a model living the London high-life.
"I lived in London for a good 15 years and all my friends back here always laughed at me because I never really told them what was happening," she said.
"When I was modelling I would do these nice jobs and not really tell anyone because I'm not one of those people who brags. They would suddenly see me on TV and be like 'Zoe, what are you doing there'."
Internet power
The power of the internet has meant that the sounds of Little Majorette, which started in 2006, have sprawled across the world with fans in as faraway places as Mexico.
The band was recently described in the New York Post as "one to watch" and a debut album is expected in April 2011 following the successful Bite the Bullet EP.
But gaining a fan base has not been the quickest or easiest of processes for Norfolk's newest music star.
"I started to sing when I was 24 and I'd been in random bands and sang on different people's albums, as well as trying to write for other artists," said Zoe.
"I was asked to go to Sweden by an A&R guy, who was working for a company who wrote for a lot of big, big bands and artists like Madonna, Kylie and Britney Spears.
"They asked me to go to this production house and I was so overwhelmed. I gave it a go but it was such hard work.
"I had to come up with a song a day and I felt really thrown-in at the deep end. I was just this little girl and I blagged my way through the whole thing.
"I did one song and it really went well and everyone was hyping it, but then I just kind of lost the plot and couldn't do it - I got writer's block."
The fallout from the tough world of popular music production allowed Zoe to explore more creative and resoundingly more enjoyable ways to make her music, creating Little Majorette with a couple of other gentlemen producers who'd also had enough of the mainstream industry.
But now and again Zoe manages to find time to return to her home county to gain a perspective of where she's come from and what she's achieved.
"I come back as much as I can, I just love it.
"I don't know whether it's because I'm getting older but I enjoy it more and more. Yesterday I spent the day on Weybourne beach with my dad and his dogs and I need to do that every now and again otherwise I go crazy."
Little Majorette's debut LP is out on 20 April 2011.