Competition winner inspired by 200-year-old fabric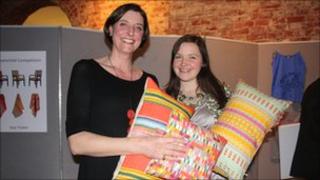 A former student from Norwich has won a business competition after being inspired by a 200-year-old book of textile patterns.
Sue Foster's cushion designs were inspired by the work of the Strangers, Norwich's 16th Century migrant workers.
The competition, run by Norwich University College of the Arts (NUCA), provides a chance for students to submit their ideas to local businesses.
Her designs are now being prepared for high street retail.
The range of brightly-coloured patterns Ms Foster created stem from three years of work researching the fabric books of the Strangers in conjunction with Norfolk Museums and Archaeology Service.
Ms Foster said: "The colour and variation in the Strangers' design is what attracted my interest.
"They look really modern even though they're 200 years old and are just asking to be developed into a fabric range."
The Strangers were Dutch and Flemish immigrants invited to settle in the city by the Norwich authorities to boost the local textiles industry.
Their arrival injected a love of bright colours into the city's textiles output and helped it to become the biggest seat of textile manufacture in England.
Ms Foster, who graduated from a postgraduate textiles course at NUCA in 2010, plans to use some of the proceeds from the sale of her products to preserve the textile books.