Husband 'cut up wife Emma Ward with saw'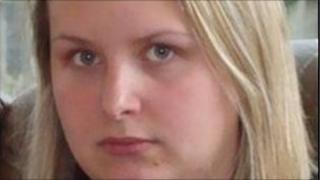 A man murdered and dismembered his wife at their home near Norwich then told police she was missing after leaving him for another man, a jury has heard.
Nicky Ward attacked Emma Ward in their bedroom and cut up her body in the bathroom, prosecuting counsel said.
No body has been found, but jurors heard that evidence revealed she had been killed by Mr Ward between April and June 2010.
Mr Ward denies murder, at Norwich Crown Court.
Simon Spence QC, prosecuting, said traces of her remains were found inside an electric saw bought by her husband at a local hardware store shortly after she vanished.
Blood-smeared scratches made by the saw were found in the bath, and bloodstains were found in the bedroom, landing, on a picture frame and a pillowcase in a drawer.
Her passport, driving licence and birth certificate were discovered in bin bags.
'Found real man'
Mr Spence said no-one was sure whether she had lived to celebrate her 22nd birthday on 9 April.
She failed to respond to birthday messages on Facebook and when her family called at her house, they were told by Mr Ward that she was out, the court heard.
Police began an investigation in May 2010 - after Mrs Ward was reported missing - and visited the Wards' cottage.
Mr Ward was preparing to move to his mother's home in Basildon, Essex, and told police that his wife had left him after writing a note on a computer saying: "I have found a real man. You... can rot in hell."
Experts could find no trace of the note and Mr Ward said he had "thrown it away", said Mr Spence.
Checks showed that Mr Ward had bought the saw, hired a carpet cleaner and picked up carpet shampoo in a hardware store in early April.
The trial continues.