Cash plea to challenge King's Lynn incinerator decision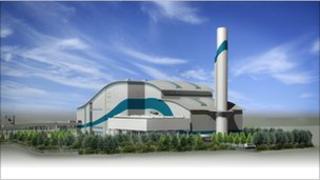 A council is to be asked to fund a legal fight against an incinerator rejected in a local poll but approved by Norfolk County Council.
Nick Daubney, leader of Conservative-led West Norfolk Borough Council, is asking for £190,000 funding for a judicial review of the decision.
He said it was "undemocratic for the county to dismiss the poll" which saw more than 92% of electors reject the project.
The county council said government guidelines had been followed.
Derrick Murphy, leader of Conservative-led Norfolk County Council, said: "I am confident our officers have followed best practice in drawing up the proposal which has already been the subject of intense scrutiny.
"In doing so we have drawn on the government's own guidance in assembling this proposal, which has secured the prospect of a £169m PFI grant for Norfolk.
"It is for the borough council to determine whether this is a good use of its taxpayers' money at this particular time and we respect that."
A contract is to be awarded to build an energy from waste incinerator plant at King's Lynn and this decision must still be ratified at a scrutiny committee meeting in May.
West Norfolk Borough Council is now being asked for money to challenge the county council's decision.
'Balanced budget'
Mr Daubney said: "Under PFI rules the county council must secure a consensus of the local population and to dismiss our poll as flawed is just undemocratic.
"We are going to seek legal advice on mounting a challenge to the county council and also Defra.
"I am confident the money can be found for this because we have set a balanced budget for the coming year and taken sufficient steps to protect spending at the level set.
"It's a lot of money, we know, but from experience when you take on judicial reviews you need enough resources to see them through.
"We must stop this incinerator being built so I'm happy to ask for the money but we'll get the best legal advice before proceeding."