Norfolk wherries overhauled in restoration project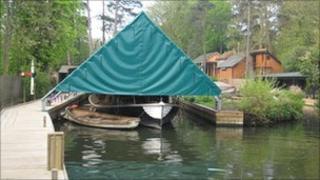 Three Norfolk boats are to be given a new lease of life after the opening of a new wherry restoration centre in Wroxham.
The covered workshop and wet dock will allow specialists to maintain the boats throughout the year.
The project, part-funded by the Heritage Lottery Fund, will also provide opportunities for schools to learn about the history of the Broads.
Only five of the eight remaining Norfolk wherries are in working order.
The Wherry Yacht Charter Charitable Trust has used the money from the Heritage Lottery Fund to open the new workshop and hopes to have Wherry Yacht Norada ready for limited sailing by the autumn.
Restoration of Wherry Yacht Olive and Pleasure Wherry Hathor will take up to another £70,000 per boat.
The trust hopes that all three will be sailing again within the next three years.
John Ash from the trust said: "Today is a milestone for the Wherry Yacht Charter Charitable Trust.
"The official opening of the base is phase one of the overall restoration project," he added.
Wherries were a familiar sight on the Broads in the late 19th and early 20th Centuries as their ability to sail the narrow waterways made them vital to the economy of Norfolk.
However, the development of the railways brought a more efficient way to transport goods and their use declined.