Norwich City promotion parade date set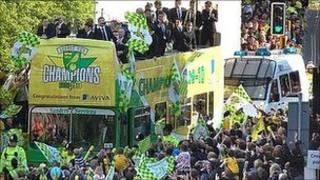 Norwich City Football Club have announced the date for their Premier League promotion party.
The event, on Tuesday 10 May, will include an open-top bus parade and an appearance by the players on the balcony of City Hall.
The parade will happen in the early evening but the exact times and route have yet to be announced.
Laura McGillivray, Norwich City Council chief executive, said the authority was delighted to host the reception.
"This is an unbelievable achievement for the football club just one year after its supporters celebrated promotion from League One to the Championship and this will be a fantastic opportunity for everyone to congratulate the players and join in the celebrations," she said.
"Being back in the Premier League will put Norwich on the national and international stage and will be worth millions of pounds to the local economy in terms of increased visitor numbers and attracting business investment.
"This is our way of congratulating the Canaries and their fans and celebrating what is amazing news for everyone in Norwich."
Norwich City Chief Executive David McNally said: "We are thrilled that the city council has invited the club to a civic reception and delighted supporters will be given the opportunity to show their appreciation for Paul Lambert, his backroom team and their marvellous players.
"It really is astonishing that they have achieved back-to-back promotions, so please come and show your support for our victorious team."