Bronze sculptures stolen from Great Yarmouth are found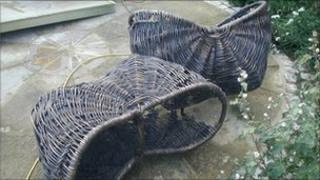 Two bronze sculptures worth £2,000, which were taken from a municipal garden in Norfolk, have been recovered hours after being reported stolen.
Great Yarmouth Borough Council reported the herring basket sculptures missing from one of their gardens on Wednesday.
Norfolk Police alerted scrap yards and within 15 minutes one in Norwich confirmed it had the art work.
Police arrested two men who were issued with formal police cautions.
Unique to Yarmouth
Det Sgt Pete Jessop said: "This case demonstrates the benefits of police and scrap sites working together to combat metal theft and how it is becoming increasingly difficult for metal thieves to dispose of stolen property."
The baskets had been stolen from Middlegate Garden close to the Norfolk Nelson Museum on South Quay.
The council's conservation officer, Darren Barker, said: "The bronze sculpture by Alison Atkins is of herring baskets (also known as swills) which are a unique basket to Great Yarmouth used for unloading herring from fishing boats.
"The only known swill maker was commissioned to make two baskets which were then cast into bronze.
"We are delighted that the sculpture has been recovered by the police."