Liverpool Sound City hosts first Norwich bands showcase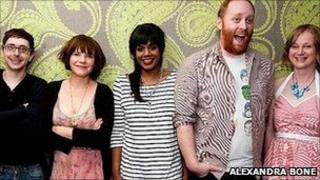 A string of Norwich bands will play a showcase at a music festival and conference.
Liverpool Sound City is hosting a Norwich stage for the first time.
The line-up for the gig on Thursday 19 May includes indie favourites Bearsuit, Fever Fever, Hello Bear, The Barlights and We Can't Dance.
"It's further recognition that Norwich has got loads of great bands and it's a fantastic chance to extend their audience," said organiser Adrian Cooke.
The showcase has been put together by Mr Cooke, who heads the Norwich Sound and Vision music festival and conference, together with artist development programme Escalator Music and city-based independent label NROne Records.
Norwich Sound and Vision will roll out its roster of bands, workshops and seminars for a second time this autumn.
Its strengthening relationship with Liverpool Sound City is responsible for spawning the Norfolk showcase.
"Both I and Dave Pichlingi, who is the director of Liverpool Sound City, sit on the national board of the Music Development Agency, which is involved in growing music in all regions and we got offered the show," said Mr Cooke, who also co-presents radio's BBC Introducing in Norfolk.
The north-west trip is the first in a plan to take Norwich's sounds further afield, with an ambition to set up shop at the world's biggest music event at South by Southwest in Texas, USA.
"We'll be trying to do more showcases at all of the big national music festival and conferences next year and hopefully we might even put together an East of England stage at South by Southwest," said Mr Cooke.
We Can't Dance are one of the groups looking forward to making some important contacts and they even hope to have some celebrity fans in the crowd.
"It will be good to play in front of industry people and to do some networking," said front man Harry Dawson, 20.
"Jessie, our guitarist, is friendly with The View who are playing later on the same night so they might pop along to see us," he added.