Pub landlord denies Norfolk pub freezer murder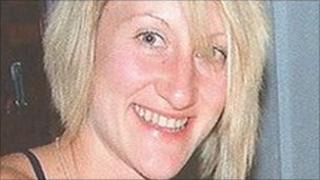 A pub landlord shot his partner while she was in the bath and put her body in a freezer while he continued normal life, a court has heard.
Michael Tucker, 50, had sex with another woman while the body lay in a chest freezer in a nearby outbuilding, Norwich Crown Court heard.
Mr Tucker, who ran The Compasses Inn in Snettisham, denies murdering Rebecca Thorpe, 29, in March last year.
The jury heard he made excuses for her disappearance then fled Norfolk.
He lost his temper when Miss Thorpe told him he could not see his children again and admitted having an affair with another man.
Graham Parkins QC, prosecuting, said: "He pointed the shotgun at very close range at the back of this lady's head and squeezed the trigger.
"It caused almost instant death. The only comfort for her family and friends is that she was totally unaware."
'Be on telly'
Miss Thorpe was left in the bath for a couple of days before being wrapped in a duvet and plastic sheeting and dumped in a chest freezer, the court heard.
He gave various reasons for her disappearance but soon began to run out of explanations, the court heard.
He fled Norfolk for the Isle of Wight on 20 March.
He sent a text to a woman he had had sex with after the shooting, which stated: "It's not your fault, I've made a mistake."
When she asked him to explain he said: "I've done something wrong and it will be on the telly next week."
The woman offered to help but he replied by text: "Even for murder. I think not. Let me know. It's Becks."
After a search of the pub premises a police officer found the body and Mr Tucker was tracked down to a hotel registered under a false name.
When arrested on suspicion of murder, he replied: "It's not suspicion, I've already admitted it."
The case continues.