The Darkness sell out reunion gig at Norwich Waterfront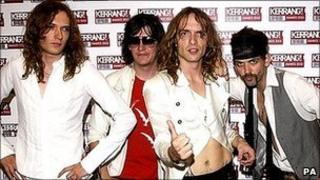 Reunited glam-rock band The Darkness have sold out their first comeback gig inside six hours.
The Suffolk group's show at the Norwich Waterfront on 5 June will be their first since splitting in 2006.
The band will follow the concert with two more warm-up dates before playing the Download Festival on 10 June.
"We're really chuffed that the Waterfront has been chosen by The Darkness," said Leander Platten, manager of the 700-capacity venue.
"It's sold out which just shows the demand is still there for people to see the band.
"We do like to think they regard us as their home venue," he added.
Worldwide success
The Darkness, formed by Lowestoft brothers Justin and Dan Hawkins, announced their original line-up would be getting back together in March.
The band gained worldwide success after the release of their 2003 debut album Permission to Land, featuring the hit singles I Believe in a Thing Called Love and Growing on Me.
The band are believed to be recording their comeback album at Leeders Farm studios in Wymondham, which is owned by Dan Hawkins.
The group - who are renowned for their energetic live performances - first played at the Waterfront on 2 April 2003, to just 237 people.
The King Street venue has recently been shortlisted in the East Anglian heat of NME magazine's Best Small Venue, alongside Norwich Arts Centre.