A11 at Thetford closed by lorry offal spill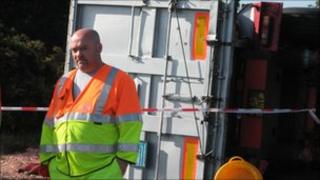 One of the main trunk roads into Norfolk has been closed after an crash in which a lorry tipped over and shed its load of chicken offal.
It happened at the junction of the A11 and the A134 and B1107 in Thetford in the early hours of Thursday.
Specialist cleaners would be needed to deal with the spill before the road could reopen and that was not expected to be before 1500 BST, police said.
The lorry driver was taken to the West Suffolk Hospital with minor injuries.
Diversions are in place.