Ed Sheeran reveals October gig at UEA, Norwich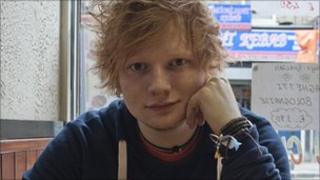 Rising star Ed Sheeran has confirmed his fourth gig in Norwich this year.
The flame-haired singer-songwriter has announced he will play a headline gig at the University of East Anglia on 23 October to promote his debut album '+'.
News of the autumn tour has been confirmed following the Suffolk-bred musician's TV and radio sessions on Later with Jools Holland and Zane Lowe.
"It's important for me to keep playing Norwich - it was the first place I started gigging," said the 20-year-old.
"I was given a lot of opportunities to do shows there, which allowed me to build up a really supportive local fanbase.
"I feel like it's right to go back there and just play as many times as possible.
"It will also be my first time headlining the UEA so I'm really looking forward to it."
Details of Ed's October gig in the city were revealed this week after he became the first artist to hold three consecutive gigs at Norwich's Waterfront, which will take place in July.
The musician, who mixes acoustic folk-style guitar with rapid-fire vocals, has played more than 100 gigs in Norwich including a house gig in Dereham Road in January 2010, which was filmed by BBC Introducing in Norfolk.
Ed signed to Asylum, an imprint of major label Atlantic Records, in January after being championed by Hollywood star Jamie Foxx and his self-funded No 5 Collaborations EP featuring top MCs Devlin, Wiley and Wretch 32 went to number two in the iTunes album chart.
He's now back in the studio in London recording his first album for the label, which is slated for release on 19 September.
The record's first single The A-Team will come out on 12 June, which has already been made single of the week on BBC Radio 1's Fearne Cotton and Zane Lowe's shows.