Thetford Meet Up Cafe scoops big Lottery grant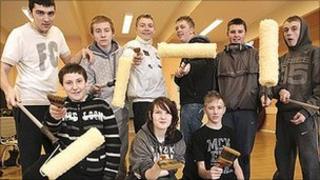 The future of a Norfolk town's youth cafe has been secured for the next three years with a £400,000 pay-out from the Big Lottery Fund.
The Meet Up Cafe in Redcastle Furze, Thetford, opened in April 2010 as a centre for education and entertainment.
The aim was to help curb antisocial behaviour in the town.
"It's absolutely fantastic," said centre manager Terry Jermy.
"What we've really tried to do is create a safe venue where young people can drop-in and have a chat with members of staff or volunteers and we're here to help them through life.
"We really weren't sure what would be happening, but to have this opportunity of three years is such a wonderful result," he added.
The cafe is run by Norfolk-based charity The Benjamin Foundation with more than 25 volunteers helping to manage the facility six days a week.
Around 25% of Thetford's population is under 16 with the town in the top 10% nationally for low education skills and qualifications among young people, according to the Office for National Statistics.