The Feeling join Festival Too line-up in King's Lynn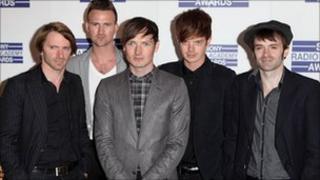 Hit band The Feeling are the latest name to be added to a free music festival in west Norfolk.
Up to 15,000 people are expected to turn out at the venue, Tuesday Market Place, in King's Lynn to see the group at the finale of Festival Too.
The Feeling will share the bill with chart-toppers The Hoosiers on 9 July, closing the festival which will run over five nights this summer.
"The acts we've booked are incredible," said co-organiser Alan Taylor.
"It's one of the first years where we've had a well-known act on each night."
Pop singer Sophie Ellis-Bextor will perform the night before her husband Richard Jones' band The Feeling, while '90s favourites The Lightning Seeds will take to the stage on 2 July.
Festival Too will launch with a performance by an Elton John tribute act and a fireworks display on 25 June at the only gig to be held in King Staithe Square.
Family-friendly
The following Friday '80s star Howard Jones will top the line-up.
Throughout the two weeks local bands including The Yesterdays and Birkenhed will warm up for some of the headliners.
The family-friendly series of concerts was started 26 years ago as an alternative to the classical music-led King's Lynn Festival, which celebrated its 60th anniversary last year.
Over the years people have come from as far afield as Japan and Canada, timing their holidays to Norfolk with the festival dates.
Mr Taylor, a member of Festival Too's committee, said it was important for the county to offer free events to help bolster a sense of community.
"These are very tough times and many people can't always afford to go away on holiday so when there is an event like this over three weekends, it's great to see everybody enjoying it for free."