Driver of burning park-and-ride bus in Norwich praised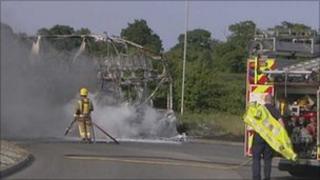 The driver of a Norwich park-and-ride bus has been praised for his actions when his vehicle was engulfed by fire.
Stuart Jones noticed smoke and then flames coming from the engine compartment of his double-decker bus at Postwick on Thursday evening.
He stopped the bus and made sure all passengers got off safely before the bus was destroyed by fire.
Paul Bonham, commercial director of bus operator Norse, said Mr Jones had done everything correctly.
"Stuart is a very experienced driver and acted very professionally by stopping in a safe place and making sure passengers left the vehicle quickly and safely," he said.
'Engine failure'
"Our drivers are trained for emergencies of this sort, and this incident showed the value of that training."
He said the engine compartments of all the company's other double-deckers had been checked and found to be in good order.
"We apologise to the passengers on the bus for what happened, and to other road users caught up by disruption," he added.
"We may never find out the precise reason for the fire, except that it was engine failure of some sort, but we do know that this vehicle had been properly maintained."
Mr Jones managed to stop the bus on the Postwick roundabout, near Broadland Business Park and the park-and-ride site.
Tracy Jessop, assistant director of travel and transport at Norfolk County Council, said she was pleased that Norse, which operates three park-and-ride services for the council, had acted quickly to check all similar vehicles.
"I would also like to commend the driver, Stuart Jones, who dealt with a very difficult situation particularly well, remaining calm and taking care of his passengers."