Pub landlord behaved 'strangely' after killing partner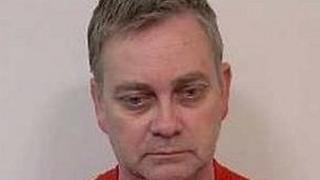 Pub landlord Michael Tucker outwardly carried on with life as normal after shooting his partner Rebecca Thorpe in the head as she lay in the bath.
Customers at the Norfolk pub they ran together were told Miss Thorpe was visiting friends or away on a hockey trip - but her body was still on the premises.
What made the case extraordinary was Tucker's behaviour in the aftermath of the killing.
After shooting Miss Thorpe with a .410 shotgun at point-blank range, Tucker, 50, left her body in the bath for two days before dumping it in a chest freezer in an outbuilding at The Compasses Inn at Snettisham, near Hunstanton.
He ran the pub as normal for 10 days, but then fled to Hampshire and the Isle of Wight, where he was arrested.
New staff
Tucker admitted killing Miss Thorpe, 29, on 9 March 2010 but denied murder, claiming it had not been a deliberate, pre-meditated act.
A jury at Norwich Crown Court did not believe his story, however, finding him guilty of murder.
Det Chief Insp Jes Fry, who led the investigation, said: "It was strange the way he dealt with it and then ran away. I think he just didn't know what to do and in the end just left her and drove off into the sunset."
After killing Miss Thorpe, Tucker took on new staff and even started a relationship with another woman.
"It would tend to indicate a very cold, calculating way of going about things and not facing up to the facts," said Mr Fry.
'Loss of control'
Although their business was in financial trouble, it was Miss Thorpe who made more effort to save it, while Tucker was said to have spent his time drinking in local pubs.
Tucker claimed Miss Thorpe had been controlling his life, even trying to stop him seeing his children from a previous marriage.
And he said he "snapped" when she told him she was seeing someone else.
Tucker told police he went to fetch the shotgun from a bedroom and loaded it before shooting Miss Thorpe.
"He has had time to change his mind and think things through and time to think about what he's doing. She has not offered him any violence - she's lying in the bath," said Mr Fry.
As for Tucker's motive, he said: "My interpretation is it was a loss of control in the relationship."
Facebook speculation
Tucker was described in court by his former girlfriend Jacqueline Walker as an unreliable "Walter Mitty character".
Mr Fry said: "That's the problem - he is not consistent and it would appear he is willing to lie."
He said the investigation was hampered by speculation about Miss Thorpe's injuries on social networking websites, including Facebook.
"It was difficult to get to who knew something as fact and who was repeating something they had read or seen," he said.
"It's a growing problem because social media is increasingly used, but I hadn't noticed it affect an inquiry in quite that way before."