Freezer murder landlord Michael Tucker found guilty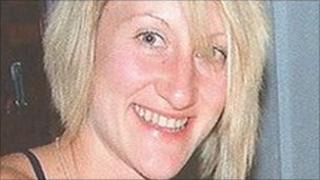 A pub landlord accused of shooting his partner in the head in a Norfolk pub and hiding her body in a freezer has been found guilty of murder.
Michael Tucker, 50, shot Rebecca Thorpe and told police she controlled his life, even trying to stop him seeing his children from a previous marriage.
Tucker admitted killing Miss Thorpe, 28, at The Compasses, Snettisham, near Hunstanton, but denied murder.
The jury at Norwich Crown Court took 45 minutes to reach their verdict.
Tucker will be sentenced on Tuesday morning, Mr Justice Nicol said.
Miss Thorpe was shot while in the bath and then left for two days before her body was moved to a freezer in an outbuilding, the court heard.
Following the murder, Tucker appeared to try and continue living a normal life, running the business and employing staff.
But he later fled to the Isle of Wight, where he was arrested for murder on 23 March 2010.
Following the guilty verdict, Det Ch Insp Jes Fry, from Norfolk and Suffolk Major Investigation Team, said: "[We] feel that the facts of the case show clearly that Tucker knew what he was doing and carried out a deliberate act.
"This was obviously a tragic loss for Rebecca's family and relatives. Our thoughts are with them at this time.
"It is important to remember that this event was also a real shock to the local community who are not used to such horrific incidents."
When Tucker fled he tried to divert police attention away from his case while a lot of misinformation was being spread through social networking sites.
Mr Fry said "Contact was made with him through a friend and he was claiming to be in Kent when he was actually traced to the Isle of Wight.
"The second issue was the large amount of misinformation and speculation which was shared on social networking sites and then repeated in other media.
"This made it difficult to establish whether potential witnesses had read details somewhere or knew them as fact. It also led to rumours which increased the concerns of the local community.
"During a search of The Compasses Inn by forensic officers, a shotgun was discovered which was covered in tape identical to that used to wrap Rebecca's body.
"Traces of blood and signs of extensive cleaning were revealed after a thorough search of the bathroom."