Unesco honours "outstanding" medieval hospital records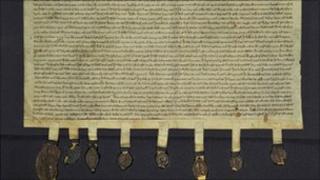 A treasure trove of rare medieval records from Norfolk has been awarded prestigious special status by Unesco.
The archive of The Great Hospital in Norwich includes 15th century annual accounts, court rolls and details of how patients lived.
The Great Hospital, also known as St Giles', was founded in 1249 and still provides care for the elderly in the city.
The records will be part of Unesco's UK Memory of the World register.
The online register promotes Britain's documentary heritage across the world.
Few collections such as those of The Great Hospital survived Henry VIII's attack on the monasteries in the 16th century.
From the start its administrators kept diligent records, most of which were stored in locked chests in a room above the church porch.
The documents show details of daily life, such as how heavy wax candles were a crucial purchase in order for 15th century worshippers to see the Eucharist during Mass.
"This unique instance of a hospital and its records surviving from the Middle Ages is exceptionally rare in this country," said Derrick Murphy, Leader of Norfolk County Council and Chairman of the Norfolk Records Committee.
"I am delighted and proud that the Norfolk Record Office has won this prestigious award."