East Coast Truckers charity convoy ends after 25 years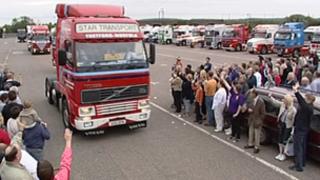 A Norfolk charity that takes disadvantaged and disabled children to the seaside in a lorry convoy has been forced to end its event after 25 years.
East Coast Truckers annually transports hundreds of children from East Anglia to Great Yarmouth and Pleasurewood Hills in Lowestoft for a day out.
A change in legislation has meant a suitable road closure system for the convoy cannot be put in place.
The circumstances have left the future of the charity in doubt.
Rob Billman, director of the East Coast Truckers, said: "It's come to a point where with the advent of what you could call 'blame culture' anybody involved in this event is liable.
"If something was to go wrong during the convoy with the police escort then the police would be liable.
"Proposals were put together to try and run the convoy in a different fashion but myself as an organiser basically said those plans weren't the way forward for the charity."
'More complicated'
The convoy regularly consists of around 80 lorries that run from Norwich city centre to the east coast.
Assistant chief constable Kevin Wilkins from Norfolk Police said "life has become more complicated" and the summer event could not continue in its current state.
"It's not that Norfolk Police won't support it, the responsibility for any event is with the organiser and the organiser of this event has particular responsibilities and liabilities," he said.
"We're looking at road closures and it's not something we can simply close roads for - the organiser has to look for road closure orders.
"It's making sure it's done safely for those involved in the convoy and for others who may be watching the event on the highway."
A coach has been organised to take children to the coast this year.
However, Glenn Johnson, who founded the truck convoy, believes it will be difficult for the Attleborough-based charity to continue as the lorries were the "focal point of public interest" and the organisation's "main source of income".
Police say they will look at ways to help the charity perform its duties in future years.