Anti-freeze warning after mystery cat deaths in Norfolk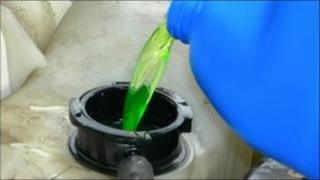 The RSPCA is warning people about the dangers of anti-freeze after a spate of suspicious cat deaths in Norfolk.
Nine cats have died with symptoms of poisoning and two are missing from Beck View in Harleston.
RSPCA Inspector Marc Niepold sent one cat's body for post-mortem tests at DEFRA, which confirmed anti-freeze poisoning as the cause of death.
He said the deaths could be caused by drivers draining anti-freeze into buckets and the cats drinking it.
But Mr Niepold added: "More cats are dying here than any other area I've known. It suggests someone could be poisoning cats deliberately."
Anti-freeze contains a chemical called ethylene glycol which can be lethal to animals and humans. It also has a sweet, palatable taste.
Renal failure
The RSPCA said one manufacturer, Comma Oil, has added an ingredient to its anti-freeze which makes the taste unpleasant.
However, there is currently no legislation to make this kind of additive a legal requirement.
"We don't know exactly how many cats have been poisoned in Harleston but we can make an educated guess from the symptoms," said Mr Niepold.
"Typically the cat comes home staggering, vomiting and fitting. If you get it to the vet fast it can be saved but renal failure can set in quickly and the animal will then die.
Beck View resident Monique Mathews, 40, said four of her cats had been poisoned.
One called Marley survived and Ms Matthews said: "He was falling over, he couldn't stand up straight and his tongue was hanging out of his month. There's no way this is a coincidence. I keep him indoors every night now."
The RSPCA has urged anyone with information to contact its national helpline.
In 2007 the RSPCA took 41 calls nationally about cats with anti-freeze poisoning but in 2010 the figure was 248.