RSPCA appeal over puppies drowned near Great Yarmouth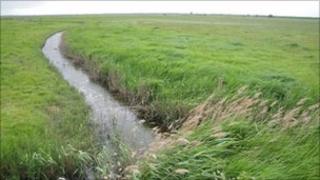 The RSPCA is appealing for information after the bodies of two puppies were found in a dyke in Belton, near Great Yarmouth.
The puppies, thought to be Labradors, were found by a dog walker on Monday who was using a footpath on River Way.
The pups were found floating in the water.
Insp John Jenkins, of the RSPCA, said: "It is just heartbreaking to think that these puppies have died a horrendous death by drowning."
"There were no other injuries found on their bodies, so we can only conclude that someone has driven them out to this remote location to drown them," he added.
Previous night
"What upsets me the most is that their deaths were completely unnecessary.
"If their owner was struggling and unable to cope there are lots of charities who would have been willing to offer them some help.
"I would appeal to anyone who may know of someone whose dog has recently had puppies which have since disappeared.
"I am also keen to hear from anyone who may have seen someone acting suspiciously in the area the previous night or on Monday morning."
Anyone with information is asked to call the RSPCA.