Caroline Spelman intervenes over King's Lynn incinerator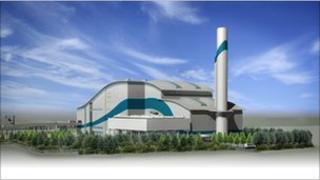 A minister has stepped into a row over a controversial £500m energy-from-waste incinerator scheme in West Norfolk.
Environment Secretary Caroline Spelman has told Norfolk County Council she is "greatly concerned" over opposition to the scheme planned for King's Lynn.
Defra had promised to provide £169m in private finance credits to build the plant if it had community backing.
In a poll, more than 92% of borough council voters opposed the plan but county councillors approved it.
A letter from Mrs Spelman to Norfolk County Council followed a meeting at which two Norfolk MPs told the minister about the vote.
MPs Henry Bellingham and Elizabeth Truss met Mrs Spelman to tell her about the widespread opposition to the incinerator project.
Pollution fears
The county council had said there was nothing in planning requirements that compelled them to take notice of the poll.
A county council spokesperson said: "We have received a letter from Caroline Spelman to which we will respond shortly.
"We remain committed to the project which represents excellent value for money for Norfolk taxpayers but are happy to work with MPs and other elected representatives to ensure concerns are recognised as we move forward during the planning process which lies ahead."
The Defra credits depend on support for the project across the community which the borough poll in February indicated it did not have, the MPs said.
Mrs Spelman wants the county council to show it has built a "broad consensus" around its waste strategy, even if that means a delay in its plans.
King's Lynn and West Norfolk borough leader Nick Daubney has now called on the councils across the county relying on the project for disposal of much of their waste to come together to find an answer to the impasse.
The £500m incinerator contract is due to be signed with Anglo-American company Cory Wheelabrator.
The county council said the plant would stop rubbish going to landfill and would generate energy.
Opponents have said they are worried about pollution and traffic.