Glade music festival to be held at Houghton Hall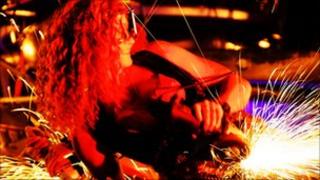 An event which started out as part of Glastonbury Festival is being held in Norfolk for the first time.
Glade Festival, which champions all genres of electronic music, is being staged in the grounds of Houghton Hall, near King's Lynn.
Around 5,000 people are expected to gather for the celebration, featuring dance acts including Krafty Kuts and Andrew Weatherall, from 10 to 12 June.
Glade ran as a dance tent at Glastonbury for five years.
Organisers then decided to stage the event as a festival in its own right in 2004, but the weekender was hampered by floods at its site in Winchester in 2009 and it was cancelled due to high costs last year.
The people behind the festival are hoping the change of location will ensure a successful event for the thousands of party-goers, with tickets nearly sold out.
"The new site is set in a beautiful, privately-owned 5,000-acre estate which is set in beautiful parkland laid out in the 1720s," said organiser Anselm Guise.
"It is also on sand, meaning excellent drainage, so we won't be having a repeat of the floods of 2009, regardless of the weather."
The stately home was the residence of the country's first prime minister, Sir Robert Walpole, with Glade the first music festival to be held in its parklands.
"This is a new event for Houghton but something that we think will work well in the beautiful and historic park," said Lord Cholmondeley, who owns the hall.