Walsingham's village history goes on display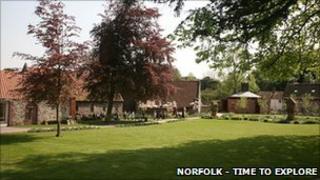 A village's history is being celebrated in an exhibition, marking the 950th anniversary of a widow's vision which sparked the creation of its shrine.
The Walsingham 950 Exhibition will take place from 10 to 12 June and includes an 80ft-long timeline.
Finds by a local historian, religious shrine artefacts, census returns and graveyard surveys will be on display.
Local history society chairman Tim McDonald said: "We are hugely excited about this exhibition."
"It presents a significant sweep of the village's history and shows Walsingham is much more than just a place of pilgrimage."
Walsingham has survived the Norman invasion, plague, famines and civil war and was a local centre of justice with its courthouse and prison, while today it attracts tourists keen to visit its medieval buildings.
In among its varied history, Walsingham has welcomed thousands of pilgrims each year to its Roman Catholic and Anglican shrines.
It became a place of pilgrimage after Lady Richeldis de Faverches was visited in dreams in 1061 by the Virgin Mary who asked her to build a copy of the Nazareth house where she was told by an angel that she would become the mother of Jesus.
The replica house was built, with a monastery springing up around it, and the shrine quickly became one of the most famous pilgrimage sites in England.
The exhibition is being held at Little Walsingham Parish Hall, High Street, from 10 to 12 June between 1000 and 1800 BST. On 10 June there will also be a performance by storyteller Hugh Lupton which features the founding of the Walsingham shrine in the Crypt of Walsingham Abbey at 1930 BST. Call 01328 820217 for more details.