Winner in Bishop's Art Prize announced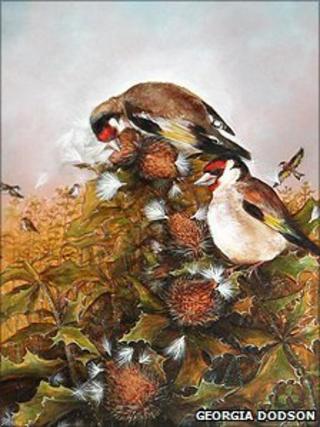 A painting entitled Goldfinches and Thistle-seeds has been awarded first place in the annual Bishop's Art Prize.
Georgia Dodson, 21, described her work as a contemporary response to the theme of the competition, Life Journeys.
The competition has a first prize of £1,000 and is open to students at Norwich University College of the Arts.
The Bishop of Norwich, the Rt Rev Graham James said: "The annual prize encourages the talented students to explore our rich spiritual heritage."
Joe Baker was runner-up with Slaver/Tanker, a diagram of a slave ship superimposed onto the plan of an oil tanker.
Aviva Leight also finished as a runner-up for Each Day is a Journey, a coat of merino fleece and indigo dye.