North Walsham chosen for Street Watch policing scheme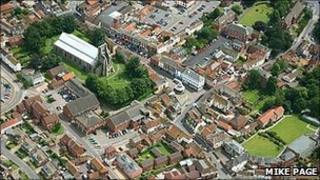 A north Norfolk market town has been chosen as the location for the county's first community policing scheme.
Street Watch will encourage residents in North Walsham to patrol the area and discourage anti-social behaviour.
The volunteers will have no authority to react to crime but will report any incidents to the police.
Sgt Kersty Brooks from Norfolk Constabulary said: "It's about engaging with the police and taking an active role in improving their own community."
In response to claims that the scheme will lead to a drop in police in the town, Sgt Brooks said other areas taking part found the police became more visible.
"They've actually found that a community that wants to empower itself by having a scheme such as Street Watch actually needs the support of the police, so you end up with more of a police presence than ever because we're there supporting the scheme."
Street Watch began in Hampshire and following its success has been embraced by other counties including Suffolk and Cambridgeshire.
"I saw the scheme in a newspaper article and thought that the citizens of North Walsham are such a tight-knit community it would be ideal," she added.