Your Pictures: UK's hidden artwork catalogued online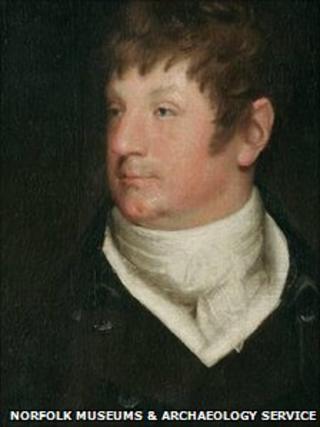 The UK's collection of 200,000 oil paintings is to be catalogued online for the first time by the BBC and The Public Catalogue Foundation.
Although the paintings are publicly owned, 80% are not on display.
A collection owned by Frederick Duleep Singh, the last Maharaja of the Punjab who lived in Thetford, is featured on the website.
The paintings have been in storage at various locations in Norfolk, but will now be available online.
Frederick Duleep Singh lost his kingdom to the British Empire and moved to Thetford where he spent his life trying to become part of the British establishment that ousted him.
He bought paintings from the landed gentry and then donated his treasures to the nation, with the collection now owned by Thetford's Ancient House Museum.
There are more than 150 paintings in the portfolio and although a few are on show at King's House in Thetford and there was an exhibition of some pieces in 1983, it is the first time many of them have been seen.
"It is great to be able to show works which reflect and influence public appreciation of Norfolk's wonderful paintings and diverse heritage, held in our museum collections across the county," said Fiona Ford, registrar with Norfolk Museums and Archaeology Service.
Hidden treasures
The Your Paintings website will bring together all the UK's hidden artworks with the stories behind them, and where to see them for real.
Whether you're a student, history buff, art lover or just interested in discovering the UK's hidden treasures, for the first time you will finally see the art that is owned by the nation.
Nicholas Serota, director of the Tate, said: "The Your Paintings website is an important undertaking that will reveal the depth and breadth of the nation's collections of paintings, many of them published online for the first time.
"Through ambitious collaboration between organisations across the UK, this bold project complements our ambition to connect audiences with art in an immediate way online, something we will take for granted in the future."
Hidden Paintings of the East, a programme featuring the history of Frederick Duleep Singh's collection, can be seen on BBC One (East), on Sunday, 26 June, at 2225 BST.