Plans approved for Gray's Arcade in Wells-next-the-Sea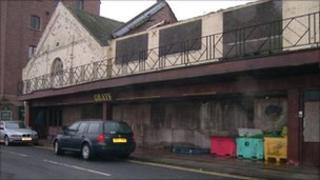 Plans to redevelop a burned-out amusement arcade in a Norfolk seaside town have been given the go-ahead.
Residents said Gray's Arcade and the adjoining Yellow gift shop have been an "eyesore" on the quayside at Wells since they were gutted by fire in 2005.
Two applications to demolish the boarded-up building and turn it into shops, a cafe and flats were approved by North Norfolk District councillors.
The building's derelict condition has frustrated local people and tourists.
Mike Gates, chairman of Wells-next-the-Sea Town Council's planning committee, said: "We've been waiting for a long time for something to happen on it."
The first set of plans will turn the shop site into a cafe and shop unit, three flats and a maisonette.
The second application means three shops, an office and nine flats will occupy the position of Gray's Arcade.
The huge blaze took 70 firefighters three hours to put out, with arson ruled out as the cause.