Twisted Piglet to support Lulu at two summer gigs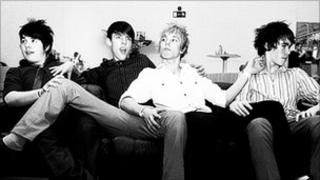 A thrilled young band have been picked to support one of the UK's most famous singers.
Twisted Piglet, whose four members live around Diss, will warm up for Lulu at two summer gigs.
The group are to appear with the chart-topping star at Abbeyfest in Bury St Edmunds on 22 July and at Skegness' Embassy Theatre two days later.
"We can't believe we'll be playing with a singer with such high international status," said frontman Brodie Payne.
"We can't put into words what it means. We were stunned when we heard we'd got the gigs."
Teen dreams
The band are especially excited by being chosen for Lulu's bill as she was a similar age to them when she scored her first number one hit with Shout at just 15.
Lead singer and guitarist Brodie together with bassist Elliot Ball and drummer Pete Blaxill are all 16 and have just taken their GCSEs.
Brodie's keyboardist brother Stacey, who is 17, has just left West Suffolk College.
"It makes us think that maybe we have a chance of doing something like Lulu," said Brodie.
"You can remember watching her on the TV and looking up to her and now we're playing at her gigs."
BurySound winners
Twisted Piglet, whose electro-rock signature sound scooped them the BurySound title in 2010, applied to play at Abbeyfest after their manager - who is Brodie and Stacey's mum - contacted the organisers.
They sold so many tickets that they were then asked to perform as Lulu's main support band at Skegness, with the booker impressed by their youth and sound.
Before their support slots, the group will appear at BBC Introducing in Norfolk's showcase in Norwich's Chapelfield Gardens for the Lord Mayor's Celebrations on 9 July.
With so many live gigs, the boys are rehearsing as much as they can while preparing to head to college to study music courses in the autumn.
"We've been looking forward to the BBC Introducing gig for a while as some of our fans can't get to our usual gigs in Bury and Ipswich," said Brodie.
"It means a lot to play in Norwich and spread our gigs out."