Cat peppered with shotgun pellets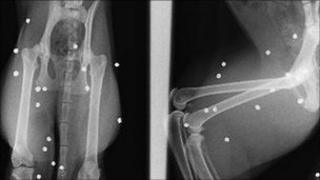 A cat has been injured after being blasted with a shotgun in Norfolk.
The cat, called Hope, was found by her owner on 11 June in the Great Walsingham area and at first a dog attack was suspected.
An examination revealed about 30 shotgun pellets in her body. Only 10 were taken out over fears removing more would injure the cat further.
Most were in the back of her body, but four were found lodged in her head, a vet said. The RSPCA is investigating.
The five-year-old cat was examined at All Creatures Healthcare in Norwich is recovering at the Paws Centre in the city.
RSPCA inspector Amy Collingsworth is investigating the incident and said: "Hope is a really friendly and lovely cat but she is lucky to have survived.
"The RSPCA is investigating this incident and we would appeal to anyone who has any information to contact us."